The Sustainable SITES Initiative promotes sustainable and resilient landscape development and can be used for development projects located on sites with or without buildings to enhance their sustainability, implement green infrastructure strategies and improve resilience.
Sustainable landscapes are essential to the wellbeing of all life
Landscapes knit together the fabric of our communities. And sustainable landscapes are critical for their ability to reduce water demand, filter and reduce stormwater runoff, provide wildlife habitat, reduce energy consumption, improve air quality and human health and increase outdoor recreation opportunities—access to which are critical during times like these.
This is where SITES comes in as it can help development projects elevate the value of outdoor space to become more sustainable, resilient and healthy. SITES fills an important gap in the marketplace by offering a comprehensive, well-vetted framework for sustainable land development. Because while every building has a landscape, not every landscape has a building.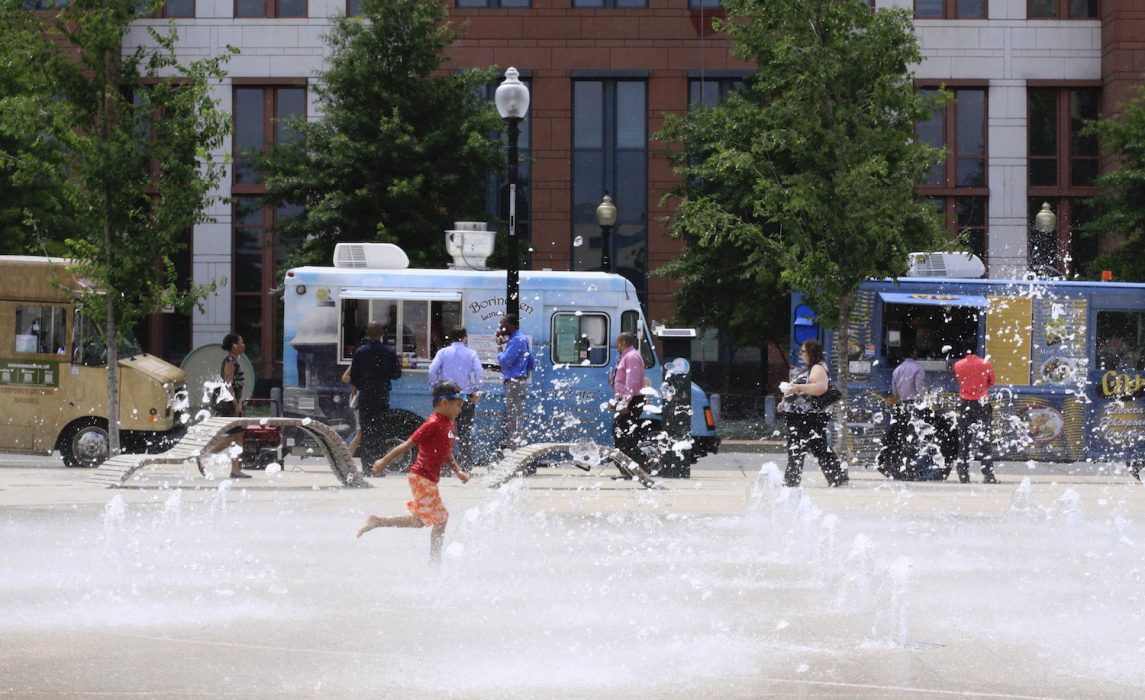 Children play in the fountain at the SITES-certified Washington Canal Park in Washington, DC.
The core value of the SITES program is that any landscape—whether the site of a large subdivision, a shopping mall, a park, an office building or even a home—holds the potential both to improve and to regenerate the natural benefits and services provided by ecosystems in their undeveloped state. These benefits—such as supply and regulation of clean air and water, provision of food and renewable resources and decomposition of waste—are essential to the health and wellbeing of humans and all other life on the planet.

You cannot expect to have a higher living standard in the midst of a diminishing ecosystem. SITES helps raise the living standard by supporting our ecosystems so that they — and we — can truly thrive. It is as simple as that.
SITES leadership in the field
GBCI's SITES Accredited Professional (AP) denotes proficiency in sustainable design, construction and maintenance of landscapes and outdoor spaces. This advanced professional credential signifies expertise of the SITES Rating System and a commitment to sustainable land development to clients, colleagues and communities.
To further support and encourage this learning, GBCI has also introduced a credit to recognize projects that have a SITES AP on their project team.
To achieve our vision, we know we must propel this work forward faster and more effectively. If you share our enthusiasm for sustainable landscapes, please join us by becoming a SITES Community Partner. These are organizations that seek to raise awareness of a landscape's vital role in providing ecosystem services and improving quality of life for all, and support SITES by sharing articles and education and promoting certification and the SITES AP.
BUILT BY INDUSTRY LEADERS, FOR INDUSTRY LEADERS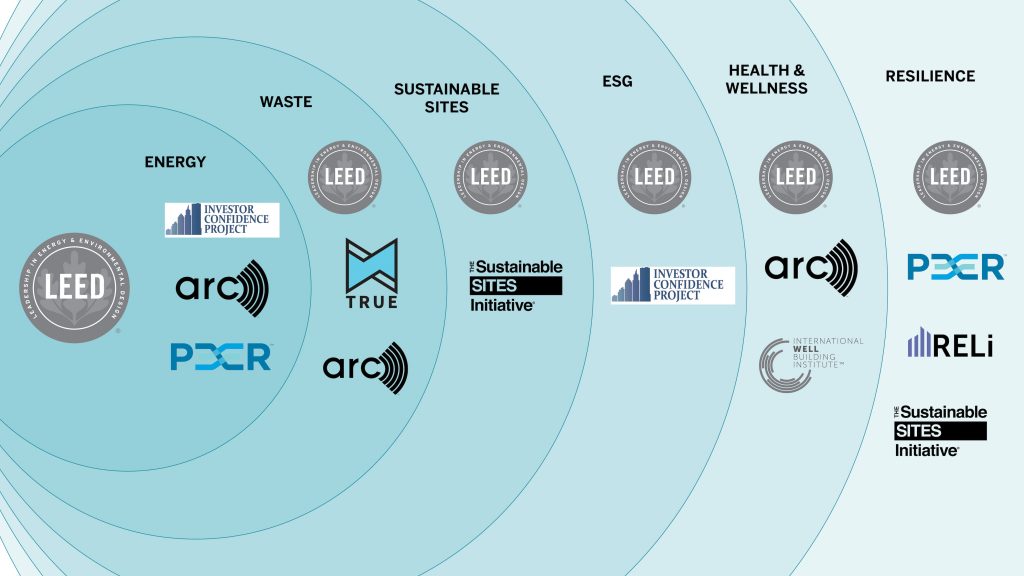 In 2014, GBCI, the global certification body for the LEED green building certification, started expanding to administer several other complimentary rating systems that cover nearly every facet of the sustainability industry, like SITES.
The U.S. Green Building Council (USGBC) and GBCI have long been committed to sustainable site development. Since its origination, LEED has contained Sustainable Site credits which are designed to ensure a project's natural environment is valued and respected through every step of the building process—from planning to construction to management. These credits reward projects that acknowledge buildings don't exist separately from their landscapes and that the environmental integrity of those landscapes should be preserved.
LEED's Sustainable Sites credits deal with issues like protecting natural habitat and biodiversity, reducing runoff, improving water quality, reducing light pollution and heat island effect and more.
What LEED has done for buildings, communities and cities, we now want SITES to do for our communities and outdoor spaces — at a global scale. The faster we can transform our landscapes to be sustainable, the quicker we can mitigate climate change as buildings are only a part of the effort.
SITES ensures a healthier future
To realize the benefits of healthy ecosystems, we must prioritize sustainable, resilient development by integrating nature back into cities. We must transform land development and management practices by bringing the importance of green infrastructure and ecosystem services to the forefront of decision-making.
From streetscapes and parks to corporate campuses and educational institutions, we need to remember our lands provide the foundation for our very way of life. They determine how quickly we will recover from the effects of climate change, provide a natural system for cleaning our water and keeping our cities cool and positively impact both our mental and physical health.
We need to remember that landscapes are not merely beautiful, passive features, but living systems that serve as the world's natural infrastructure.
Andropogon, a landscape architecture and ecological design firm, is committed to the idea of "designing with nature" and is pushing the definition of how we define truly sustainable sites. This includes their role on the SITES-certified US Botanic Garden's Bartholdi Park.
With SITES, we can build, quite literally, the future we aspire to with approaches that conserve and enhance the land on which we depend, protect our communities from disaster and improve human health.
By creating healthy sites that engage people to spend time outdoors, SITES is reconnecting humans with nature. Time spent outside in nature provides numerous proven health and wellbeing benefits from reduced depression and anxiety to enhanced cognitive functioning and productivity levels.
Landscapes are not merely beautiful, passive features, but living systems that serve as the world's natural infrastructure.
SITES guides projects to design inviting and meaningful outdoor spaces that provide mental respite from our busy lives and can also provide opportunities for social interaction. Furthermore, by optimizing biomass and employing green infrastructure strategies on a project site, SITES creates spaces that protect our health through improvements to air and water quality, for example.
Employing sustainable approaches to site construction and maintenance, such as having an idling policy and clean engine criteria for equipment also protect health of workers and protect air quality. All this leads to improved community wellness, stability and resilience.
SITES connects design with ecology, and connects people to place. Reconnecting humans with nature not only provides health and wellness benefits that come from that connection, but also encourages environmental stewardship in present and future generations.
Stories about sustainable landscapes
Sustainable landscapes appreciate in value
In addition to health and wellness, there are many economic advantages embedded in SITES. Sustainable landscapes actually appreciate in value over time by continuing to provide a variety of benefits such as managing stormwater, cleaning air, sequestering carbon, regulating climate and providing habitat for wildlife. For example, by providing shade and acting as windbreaks, trees can reduce building operating costs.
SITES helps real estate owners realize the operating and financial benefits of sustainable site design and the land upon which their development sits. Central to the effectiveness of SITES is the integrative design process, bringing an entire project team together from the beginning so that time, money and resources are maximized. For the owner, this means more value, fewer delays and cost overruns and a better functioning project.
The outcome? The whole is greater than the sum of its parts. It's why the U.S. General Services Administration (GSA) adopted SITES in 2016 for its capital construction program. The GSA determined that the incorporation of SITES offers a highly effective and efficient way to compel environmental performance and project efficiencies, including effective cost control, on various capital project types.
And the market rewards the high-performing landscapes that SITES promotes. An NRDC analysis of over 125 studies found commercial properties with well-designed green infrastructure can reap the rewards of higher rents and property values, increased retail sales, energy savings, local financial incentives (such as tax credits, rebates, and stormwater fee credits), reduced life-cycle and maintenance costs, reduced flood damage, reduced water bills, reduced crime and improved health and job satisfaction for office employees.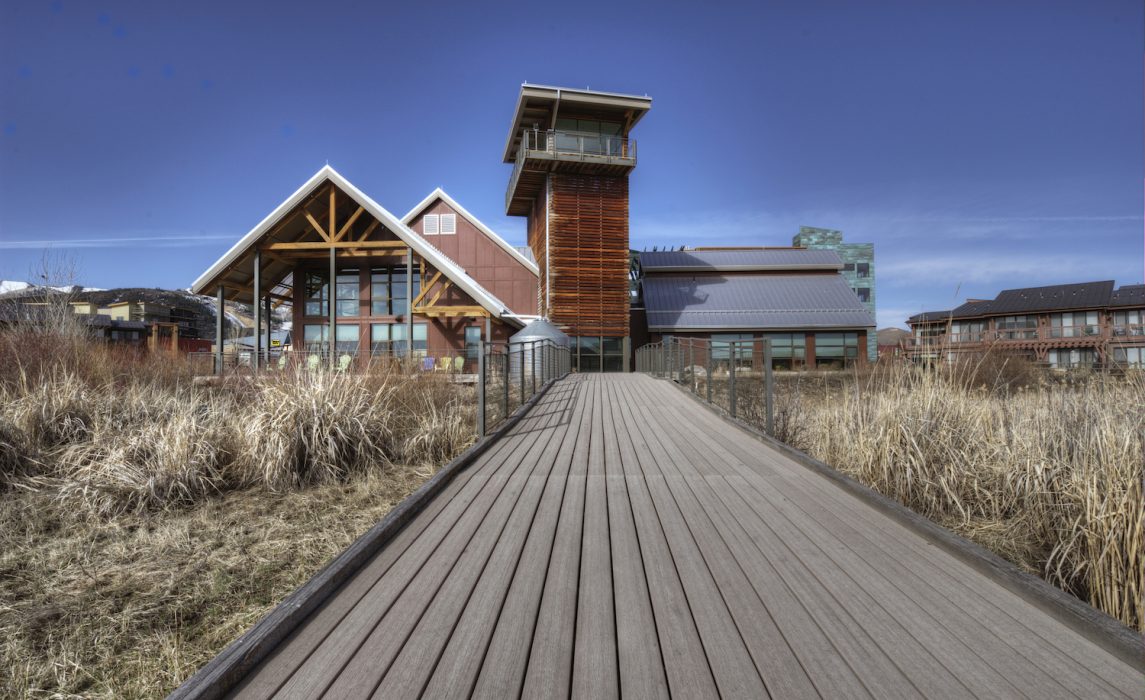 The Swaner EcoCenter is a 10,000 square feet education and museum building in Park City, Utah. Ongoing wetland restoration provides improved water quality and habitat for a rich variety of wildlife including deer, elk, moose, mink, beaver, red fox, coyote, eagles and hawks, sandhill cranes and more than 90 additional species of birds.
Help advance SITES
Making our landscapes sustainable and resilient will take hard work, but the benefits to human health, our natural ecosystems and the global economy are worth the effort. Please join the SITES movement and help raise the living standard for all.
Act and build capacity
If you haven't already, take the SITES AP exam and earn your professional credential.
Make a positive impact through SITES certification
Register, pursue and certify a project with SITES.
Stay informed
Sign up for the SITES newsletter and watch some of our upcoming live events or educational courses.
Join the new SITES community network
Show your support for healthy ecosystems and join a network of organizations committed to prioritizing meaningful, high-performance outdoor spaces.
Spread the word about SITES on social media
Follow SITES on Twitter, Facebook, and LinkedIn and talk about the program and share what the SITES means to you.
Share your story
By sharing our stories, we help each other see things through different perspectives and learn new ways of doing making a difference along the way. Living Standard is USGBC's storytelling and action-oriented campaign to advance a more sustainable, healthier future. Share your story with us, and we might feature you on our website, emails or social media channels.