TRUE is the first zero waste certification program dedicated to measuring, improving and recognizing zero waste performance by encouraging the adoption of sustainable waste management and reduction practices which contribute to positive environmental, health and economic outcomes.
The Issue of Mismanaged Waste
Waste affects every part of our communities and effective waste management strategies are critical to ensuring both public and environmental health. Mismanaged waste causes degradation to our environment, releases toxins into our bodies, damages oceans, creates greenhouse gases and cost businesses and municipalities billions to manage. And it places undue burden on underprivileged communities.
On average, Americans produce over 1,500 pounds of waste per person every year. Only one-third of these materials are recycled and the rest goes to landfills, incineration and the environment, including our parks, streams and oceans. An estimated 400,000 to 1 million deaths annually are attributable to diseases caused by mismanaged waste in low to middle income countries.
These statistics can be overwhelming. But it doesn't have to be this way.
The good news? Unlike some environmental challenges that may be beyond the control of an individual, waste is an issue everyone interacts with on a daily basis as nearly every human activity is responsible for waste generation.
We all want the world to be a cleaner and healthier place for future generations, and we can't accomplish this without bringing a critical focus to waste reduction and elimination efforts.
Stories about zero waste
from our Living Standard campaign.
The solution is within our reach
Individual action is an important part of the solution, but corporate involvement is critical to achieve the change we need. The 5,589 largest public traded companies in the U.S. send 342 metric tons of waste to landfills and incinerators every day at a significant cost to both society and themselves.
Businesses must go beyond and think critically about how to redesign processes so that less waste is produced in the first place. Implementing zero waste business practices requires rethinking, retraining, new tools and strong leadership to change current waste systems.
Our current waste management systems remove wasted materials in the quickest way possible from the public's view. This approach has encouraged a throwaway society because consumers either aren't aware of the consequences of their actions or don't demand accountability from a producer.
More companies need to demonstrate leadership by shifting to circular thinking and prioritizing  processes, operations and actions to reduce waste and resources upstream.
Waste is a design failure, and managing waste is a design challenge for which the TRUE Rating System provides a comprehensive framework
In our current system, many of our wasteful practices stem from a lack of design and are the result of inefficient business practices. Waste is a design failure, and managing waste is a design challenge for which the TRUE Rating System provides a comprehensive framework.
TRUE designs for waste management
TRUE is the first zero waste certification program dedicated to measuring, improving and recognizing zero waste performance by encouraging the adoption of sustainable waste management and reduction practices which contribute to positive environmental, health and economic outcomes.
The transition to a truly circular economy will require us to challenge everything we've been taught about waste and begin viewing our materials or trash as a resource or an opportunity rather than something to simply discard. TRUE:
Is designed to help guide this transition by supporting businesses and communities in re-thinking old assumptions and re-designing processes to ensure that all resources are valued for their highest and best use.

Promotes a whole systems approach aimed at changing how materials flow through society, resulting in no waste. It focuses on upstream efforts including redesign, reduce and reuse and is not limited to downstream efforts.
Operates with the goal to divert all solid waste from the landfill, incineration and the environment. Facilities achieve certification by meeting an average of 90% or greater overall waste diversion over a period of 12 months, as well as implementing minimum program requirements within the TRUE Rating System.
Currently, there are more than 250 registered and certified projects, totaling more than 107 million square feet of space across 18 countries participating in TRUE.
Global organizations are deploying TRUE as their zero waste management system to standardize implementation practices in their operations and streamline their educational efforts to onboard their staff. This includes Colgate-Palmolive, which has certified 17 manufacturing facilities in nine countries on four continents to TRUE and has committed to certifying 100% of their global operations to TRUE.
Projects that certified to TRUE during the years 2018-2020 had an average diversion rate of 97% and a combined estimated 1.4 million tons of waste diverted.
TRUE Leadership in the field
TRUE Advisors understand the requirements of the rating system, help projects achieve TRUE certification and are committed to advancing zero waste values and policies. They are the resident experts at their company in supporting and implementing zero waste programs and leading facilities through the certification process.
In our current environment, it is also important that learning continues and is recognized. Many are looking to gain new skills and add credentials. GBCI's TRUE Advisor certificate program provides a comprehensive curriculum for the individual who wants to learn about zero waste, and support businesses in implementing zero waste initiatives and TRUE certification.
To further support and encourage this, GBCI has introduced a TRUE Advisor credit to recognize projects that have TRUE Advisors on their teams.
Built by industry leaders, for industry leaders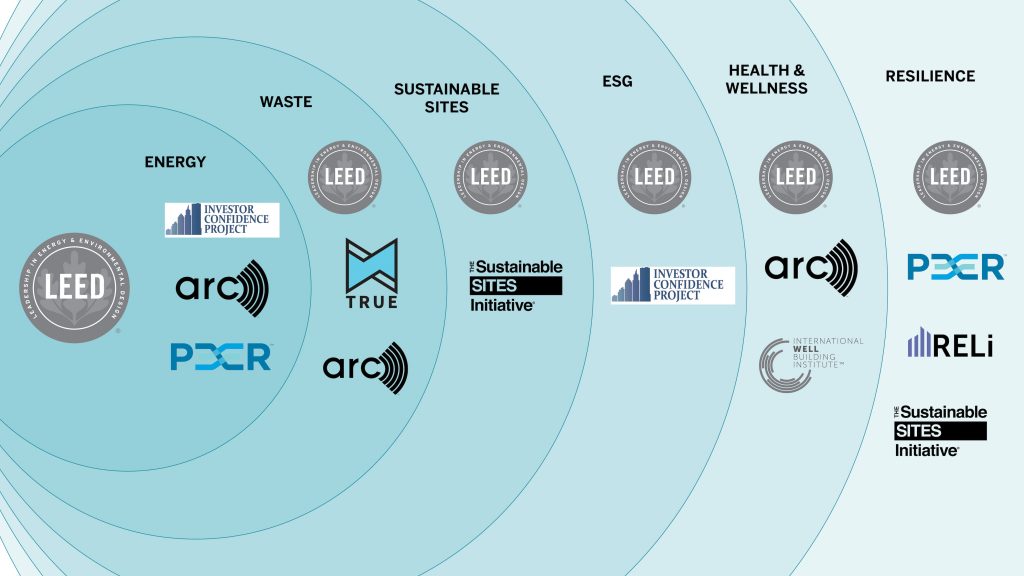 In 2014, GBCI, the global certification body for the LEED green building certification, starting expanding to administer several other complimentary rating systems that cover nearly every facet of the sustainability industry, like TRUE.
The U.S. Green Building Council (USGBC) and GBCI have long been committed to minimizing waste and maximizing resource efficiency, and believe that zero waste is a powerful strategy and target that will help move the entire global community forward and help improve quality of life.
The LEED rating system has always contained credits designed to either reduce or avoid the amount of waste generated from the design, construction, operations and maintenance of our buildings. For instance, the construction and demolition waste management credit, reduces the amount of construction and demolition waste disposed of in landfills and incineration facilities by recovering, reusing and recycling materials.
LEED continues to do a good job of requiring waste reduction during the building construction process, but in order to advance a zero waste future, we need to create and promote practices that prevent waste from being generated in the first place.
This means we must think beyond reduction and recycling. We must rethink the way resources are both designed and created and, importantly, their end use. Ultimately, this means we need to close the loop and think circular.
And this is where TRUE comes in.
What LEED has done for buildings, communities and cities, we now want TRUE to do for buildings, communities, cities AND businesses – at a global scale.
TRUE ensures a healthier future
At USGBC and GBCI we are committed to the safe and efficient operation of facilities, as we know that this protects people and the environment. The TRUE Rating System inherently provides avenues to address the COVID-19 crisis, while also addressing sustainability.
The greatest risk reduction and resiliency strategy TRUE provides is an overarching prevention of waste and even recyclable materials from being generated in the first place. This means that:
businesses can lower their cost and quickly recover from this economic downturn, and

less materials to handle means less risk of injury or illness for janitorial staff and waste management workers.
For what materials are left, many TRUE credits and minimum program requirements encourage proper collection and sorting of solid waste and recyclable materials at the source. This reduces the need for workers to come into direct contact with contaminated materials.
The rating system also includes strategies that benefit occupants and the community in a time of need, such as food donation, using local businesses and growing food on-site. 
And as we continue to prioritize efforts to build people's trust that their spaces are healthy and have a positive impact not only on them but the economy at large, TRUE provides important pathways to achieve this – from a health and wellness, resilience and equity standpoint but also from an economic one.
68% of the credits in the TRUE Rating System directly impact public health. 
In addition to health and wellness, 44% of the credits in the TRUE rating system address resiliency strategies and 28% of the TRUE credits promote equity and social justice, which is especially important given how waste disproportionally affects low-income communities.
With TRUE, companies are saving money and creating jobs
Zero waste efforts and the transition to a circular economy is also one of the fastest, most effective ways for businesses to not only protect the environment and promote human health but also to save money and create jobs.
There are many economic advantages embedded in the strategies of TRUE that help businesses reduce operational costs and generate revenue.
One of the main benefits of TRUE certification is expedited return on investment. The reality is that if your company is throwing materials into a trash bin, then there are inefficiencies in your business and you are throwing money away—along with valuable resources.
The best part is zero waste strategies recommended in TRUE require limited investments and have extremely fast payback periods as short as 30 days. This is because TRUE focuses on internal policies and procedures more than the installation of new infrastructure or technology.
The TRUE Rating System offers 15 different categories each focused on maximizing the life cycle of every product to promote a fully circular economy. Projects around the world are implementing these credits with impressive results – and savings.
Help advance TRUE
Solving this challenge together will take hard work, but the benefits to human health, our natural ecosystems and the global economy are worth the effort. Get involved and join the TRUE movement.
Act and build capacity
If you haven't already, take the TRUE Advisor exam and earn your professional certificate.
Learn on the job
Engage in your facility to understand how waste is managed and help improve it. If you're just getting started, the simplest way to do this is by conducting or supporting a waste audit to understand where your waste is coming from in the first place.
Make a positive impact through your facility
Encourage your facility to register, pursue and certify a project with TRUE.
Stay informed
Sign up for the TRUE newsletter and watch some of our upcoming live events or educational courses. 
Spread the word about TRUE on social media
This one is easy — follow TRUE on Twitter, Facebook, and LinkedIn, talk about the program and share what the TRUE certification for zero waste means to you.
Share your story
By sharing our stories, we help each other see things through different perspectives and learn new ways of doing making a difference along the way. Living Standard is USGBC's storytelling and action-oriented campaign to advance a more sustainable, healthier future. Share your story with us, and we might feature you on our website, emails, or social media channels.