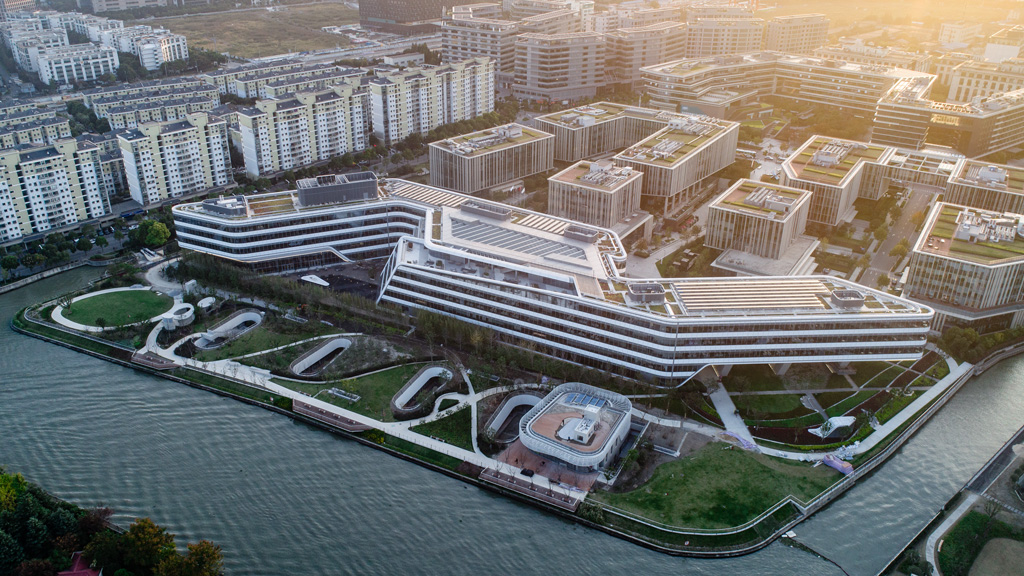 Across the world, as unprecedented challenges drive us toward a critical – yet hopeful – time of transformation, Gensler is reimagining the future of cities. Its mission is to "create a better world through the power of design." 
Gensler China is acting on that mission. It is for this reason that they received a USGBC 2021 regional Leadership Award. Of its growing number of projects across the country, there are tens of LEED certified projects, a number of which are LEED Platinum certified. They all are highly efficient, sustainable, and healthy spaces for their occupants. And with Gensler behind the helm they are absolutely gorgeous spaces, too. Their projects have become signature pieces of China's skylines.  
Take LEED Platinum certified Shanghai Tower, for example. As Asia's tallest building, and the second tallest in the world at 632 meters, Shanghai Tower is an architectural wonder as well as a sustainable one. The innovations are nearly limitless for this multi-use office space. To name a few: the transparent second skin wrapped around the building's 128 floors and creating a buffer of captured air that serves as natural ventilation, reducing energy costs and helping the building withstand typhoon-force winds; 270 wind turbines incorporated into the facade power its exterior lights; and thanks to measures like these, the tower uses significantly less power than other supertalls, reducing its carbon footprint significantly. 
Another example of their work is the LEED Platinum certified One Museum Place in Shanghai. Hines, a global real estate investment, development, and management firm, approached Gensler with a vision to enhance the rich urban fabric of Shanghai's Jing'an district with a new and dynamic mixed-use development. The 60-story office tower overlooks the Natural History Museum, and sits atop a major metropolitan site. With offices, restaurants, retail space, and unparalleled views, it has become the neighborhood's cultural hub. 
Let's not forget Glumac's LEED Platinum certified office in Shanghai. The global engineering firm wanted a bright, biophilic, open-plan workspace that spoke to their own sustainability-driven spirit. Gensler delivered, creating a space that included advanced air purification systems that report indoor and outdoor air quality in real time, and a living green wall to help with consistent purification. 
Tables, chairs, and even carpets were fashioned from recycled materials. Radiant floor heating, rooftop PVC panels, individual water and electrical meters, and composting toilets further carried them forward and achieved a zero-carbon footprint.  
Gensler China knows how to make smart, efficient, sustainable spaces — and they know how to do it without compromising design aesthetics. With each new project, Gensler continues to prove that sustainability and beauty can be two sides of the same coin.