Juan Francisco Sinfontes, is a bold and strategic thinker who pairs his passion for sustainability with extraordinary patience and persistence. Chair of the El Salvador Green Building Council, he was recently a recipient of a 2021 USGBC regional leadership award. 
His day job is as the President and COO of Sherwin-Williams de Central America, and so Juan Francisco used the power that he had, with the support of his friend and CEO Ricardo Freund, to do what he personally could to make El Salvador the fastest growing market for green building in Latin America. 
The first project to achieve LEED Gold in El Salvador was the office building for Sherwin-Williams. Juan Francisco hired double the number of consultants and LEED professionals needed in order to create new opportunities for professional experience and grow capacity. He was already in the process of certifying his own offices with LEED.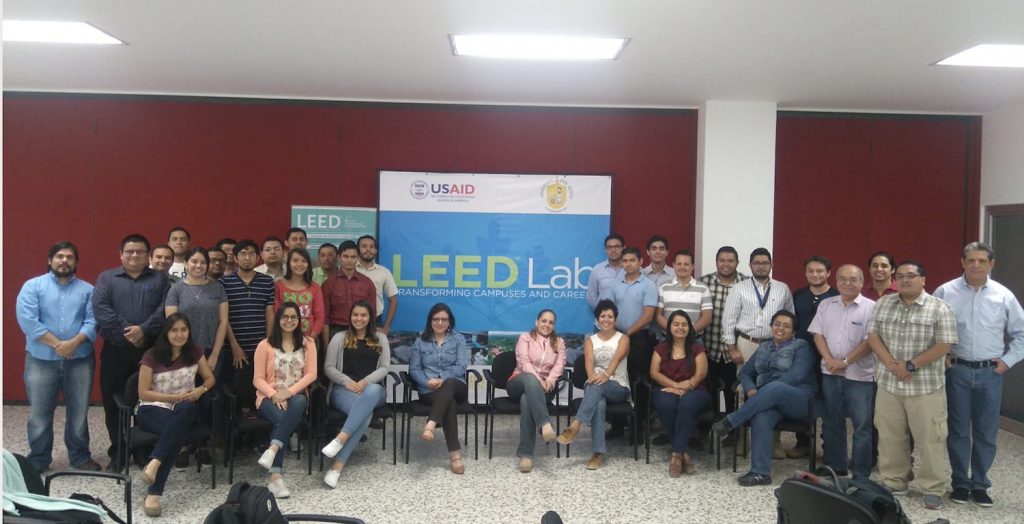 He saw the opportunity in the LEED Lab program to create the next generation of green building professionals and leaders. For months he took time out of his busy schedule to visit the campus of the Universidad Don Bosco. He lobbied the university for months, going for lunch weekly at the university cafeteria to take advantage of informal meetings with teachers, administrators, and students to promote the idea. Universidad Don Bosco formally signed on as a LEED Lab in 2018 — and he continues to mentor students from the LEED Lab, and the young professionals who pursue careers in sustainability after they graduate from Universidad Don Bosco. The university also committed to LEED certification for new building projects on campus. 
Juan Francisco is also passionate about the intersection between social equity and sustainability. El Salvador has major issues around poverty, violence, and inequality, as well the devastating impacts of climate change. As he says, he is always working on "both ends of the rope":  He is reaching out to the top end of the market to promote LEED for corporate offices, iconic buildings, and residential developments. Simultaneously he is working on affordable housing, capacity building, and connecting anti-poverty with sustainability efforts for El Salvador. The standard of living must be raised for all – and Juan Francisco is deeply committed to that work. 
The standard of living must be raised for all – and Juan Francisco is deeply committed to that work. 
When the pandemic hit El Salvador, Juan Francisco acted with the spirit of "people first," and dedicated all of his energy to keeping his team safe, healthy, and fully employed. He was able to re-open offices in July using a system of rearranging employees into smaller working units, implementing a more flexible work schedule, and increasing natural ventilation in the office. And his project, Sherwin-Williams de CA, saw a record year for revenue and production in 2020 despite all of the challenges in the market. 
At the start of this year, he registered approximately 180 retail outlets across Central America through the Arc performance platform's Arc Essentials subscription, which provides much more detailed building performance data and improvement features to help them work toward higher levels of LEED certification. 
He has made sure Sherwin-Williams de CA is a member of all of the active Green Building Councils (GBCs) in Latin America, and Juan Francisco supports the conferences and activities of GBCs across the network – as a speaker, workshop leader, an engaged attendee, and by providing scholarships to support the ability of people to travel to attend Greenbuild in the U.S. and regional conferences. 
What makes Juan Francisco such an extraordinary leader is his ability to know when he needs to step in and lead – like he did with the founding of El Salvador GBC – but he also is committed to fostering leadership and creating new champions. Now he is stepping out of the spotlight and making room for new champions and advocates and leaders.