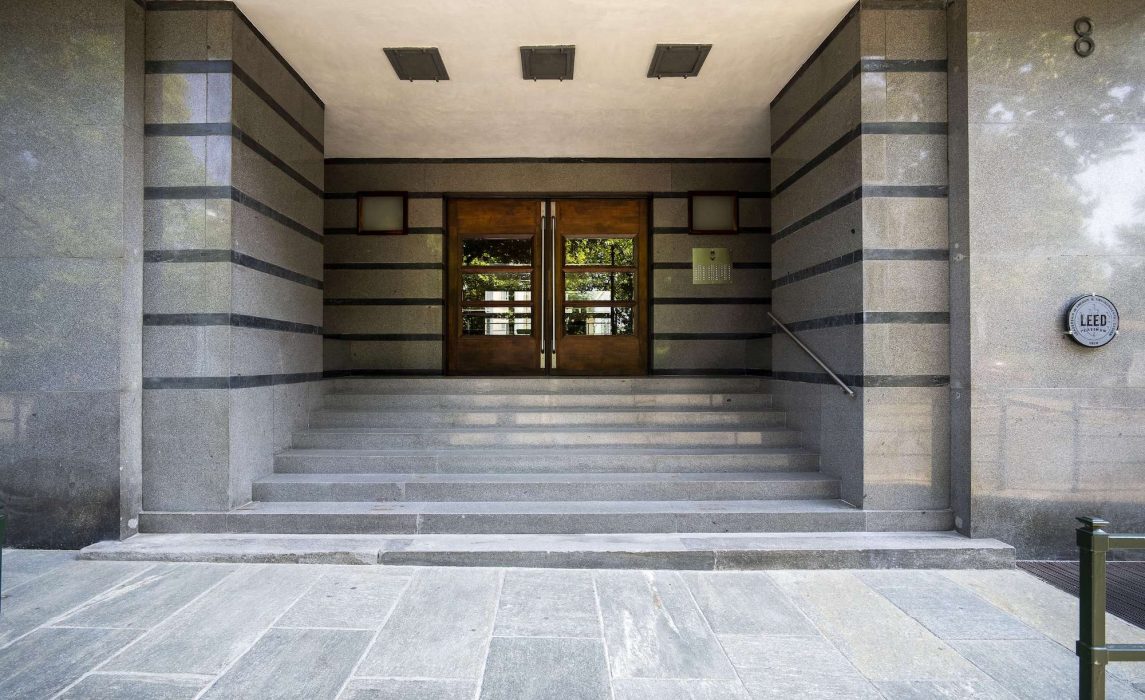 Palazzo Novecento, on the edge of verdant Parco del Valentino and near the city center, was of such importance for the Italian rationalist movement when it was built in 1930, the architecture magazine Domus dedicated an entire issue to it. Gualino companies, Fiat, and the City of Torino would all at one time hold office in it during a long history as a commercial center. 
But past has given way to future, and a vision from proponents IPI SpA and an architectural design from Studio Baietto Battiato Bianco recently breathed new life into the icon. Through a process Armando Baietto called "a balance between restoration and limited addition," the office complex was converted into 47 duplex-style residential units. Last year, Palazzo Novecento certified LEED v4 Platinum – Europe's first for a multifamily residence.  
Photovoltaics now grace the rooftop terrace. A quest to be a green building in reflection of the Parco del Valentino spurred use of next-generation and responsible materials, particularly insulation. LEED Green Rater Paola Moschini said compartmentalization proved the biggest technical challenge, but in general, she attributes Palazzo Novecento's heightened success with sustainability to the commitment of IPI SpA. 
It is for these actions taken by IPI SpA that Palazzo Novecento earned a 2021 USGBC regional leadership award! IPI SpA and the entire project team preserved the beauty of Palazzo Novecento for generations to enjoy.