A note from Mahesh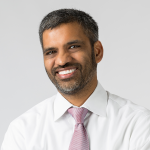 Here at the U.S. Green Building Council and for those of us in the green building community, we spend the better part of our days talking about the need for our society to be more resilient, healthy and equitable. 
The global foundation for sustainability we have set in place is indestructible – and even in the midst of an unprecedented public health crisis, I have no doubt that what all of us have built over the last generation of USGBC will endure.
Our work and our mission have not stopped – in fact they are more important now than ever before. We have the opportunity to gather under the common banner of humanity and champion a better quality of life for millions of people around the world. 
I find comfort in knowing that we will emerge a stronger community in the months and weeks ahead – and I am so grateful to be a part of this community and that you have all taken the time to join us today to discuss how we can move forward together.
Sincerely,

Mahesh Ramanujam
President and CEO, U.S. Green Building Council
Our members make it possible
At USGBC, we believe the greatest investment we can make is in each other. That's why we're an inclusive and diverse family of green builders from across the globe. We are a community of real estate leaders, developers, contractors, architects, engineers, educators, innovators and companies working to build healthy, efficient and equitable communities for all.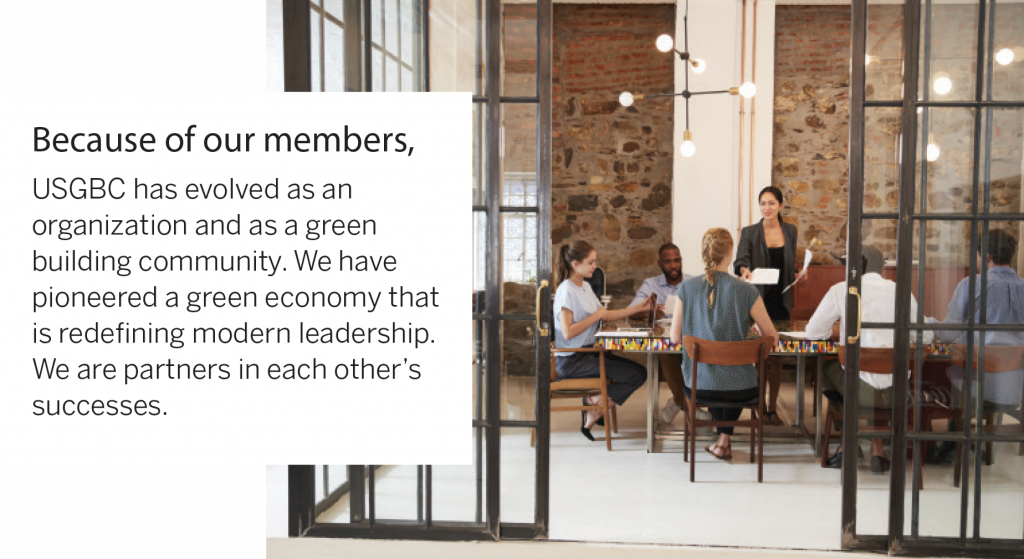 Members have fueled USGBC over our first generation — membership is absolutely vital to our work. Members fund everything that we do — membership dues enable us to invest in LEED, provide scholarships to students to attend Greenbuild and so much more — and without you, none of this work would be possible. Through membership, you are investing in the future of green building with us. And together, we're building a sustainable future for all.
When USGBC was founded in 1993, our mission was to transform the places where we live, learn, work and play within a generation. Back then, there was no defined green building community, no way to know if a building was truly green and no agreed upon guidelines to help those who wanted to build that way.
Recognizing the need to address this, USGBC created the LEED green building program more than 20 years ago as a way to measure and define what green building meant and to provide a roadmap for developing sustainable buildings. LEED was created through a collaboration of designers, contractors, real estate executives, developers, product manufacturers, owners — the entire building design, construction, operations, manufacturing and reuse continuum was in the room in one way or another. This helped establish a baseline — a universally agreed upon holistic system for reducing environmental impact and providing a quality indoor environment, always with a goal of reducing carbon emissions, addressing climate-related risk and improving occupant and community health and wellness.
And as you know, the rest is history. Now we're in our second generation, one that focuses not just on the places where we live, learn, work and play, but on the people inside them.
With this ending comes a new beginning, and we are thrilled to take on the future together. 

USGBC+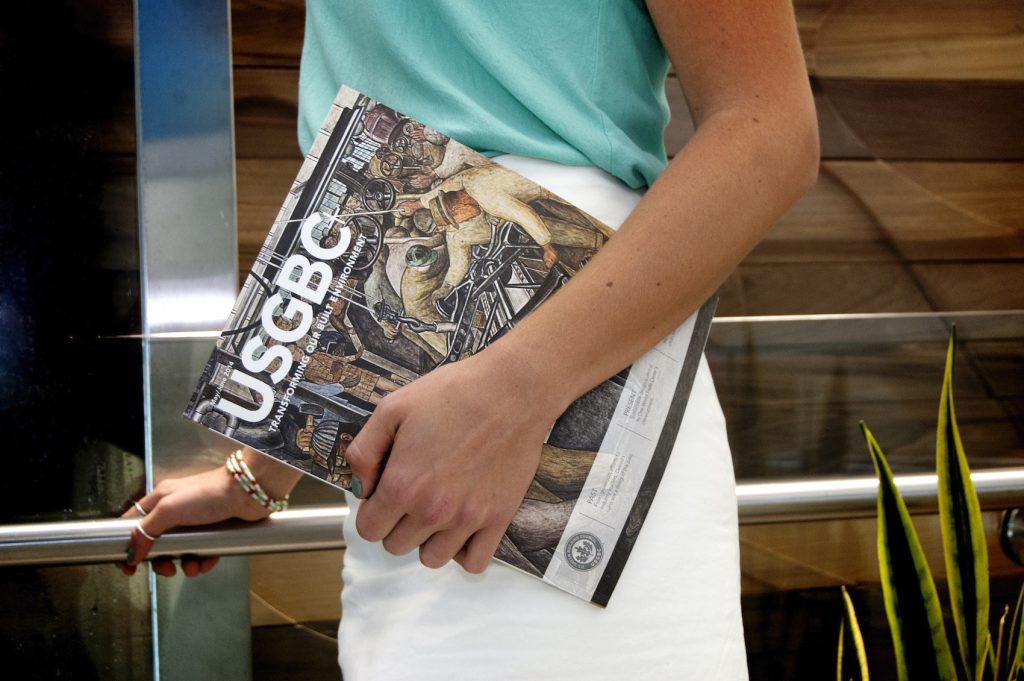 Published four times a year by USGBC, the USGBC+ magazine shares stories of achievements by our members, our communities and the green building industry. USGBC+ articles have shown how our members are using LEED, our GBCI rating systems and creative sustainability strategies to transform their communities into environmentally and socially responsible and healthy and prosperous ones that improve quality of life.
The Second Generation of USGBC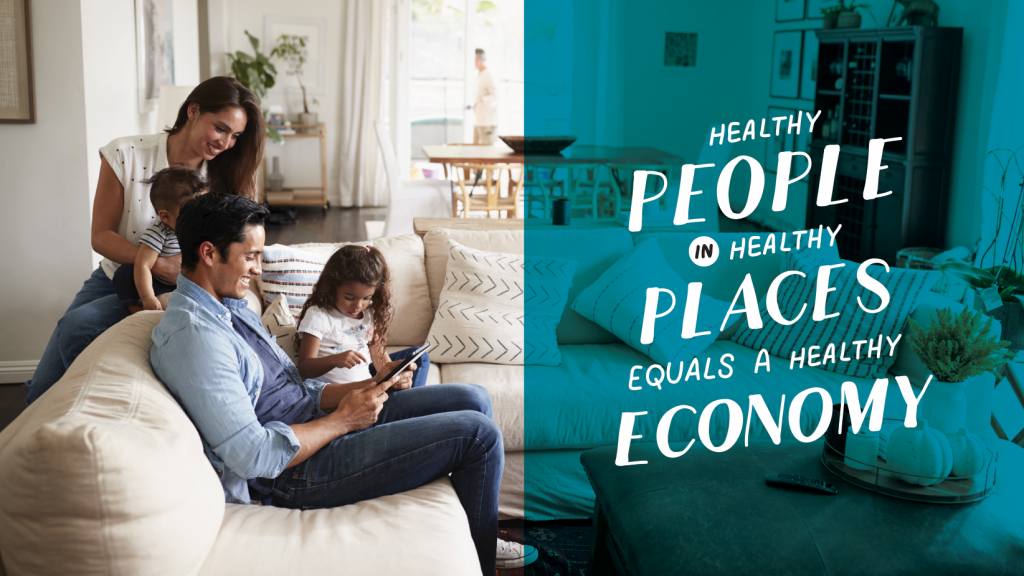 Our members have helped ensure that LEED isn't just the de facto leadership standard, but also a living standard.
And today, green building has grown into a trillion-dollar industry, and LEED is the most widely used green building program in the world. It's a full-scale global movement. 
Here are just a few of the milestones we've hit:
104,000+ registered and certified LEED commercial projects

Nearly 2 million registered and certified residential units

Projects in 181 countries and territories

And 205,000+ LEED Accredited Professionals (APs) developing, contributing, and implementing the LEED rating system across the world 
Because of the work our community is doing, people know that if they are in a LEED-certified building they are using less energy and water, avoiding waste, saving on maintenance costs, improving indoor air quality, offering comfort to their occupants and creating less environmental burden on their community. And, most importantly, they know they are in a building that enhances health and wellness. 
But, while most people are aware of the environmental and monetary benefits of green building, many still haven't made the connection between these benefits and their own health and wellness. They don't understand that these buildings have a direct impact on their quality of life.
A renewed focus
For more than 25 years, we've worked together to build USGBC and LEED into the extraordinary entities they are today.
And now, as we enter the second generation of USGBC, and as COVID-19 continues to change our way of life, we have the opportunity to help each other by sharing our best practices and resilient behaviors with vulnerable communities around the world.
We can rely on each other and on these foundations to help us recalibrate and recover from this crisis. But to be able to effectively initiate that recovery, we must refine LEED strategies to clearly communicate the economic, health and environmental benefits of a project to its occupants and the community to which it belongs.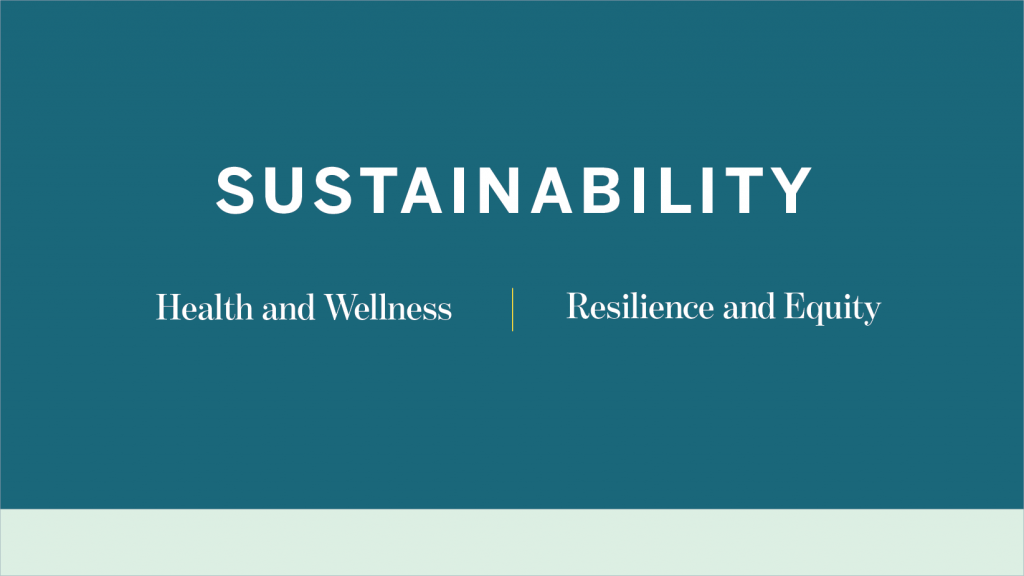 In our second generation, these four pillars of sustainability, health and wellness, resilience and equity will be at the heart of all our programs.
ALL IN
A sustainable future is meaningless if it is not also an equitable future. USGBC's commitment to equity is grounded in our 25+ year mission to better the lives of all people within a generation through sustainable buildings, communities and cities. Green building and social equity go hand in hand, and we know that addressing and emphasizing sustainability through green building can provide communities with much-needed resources.
A sustainable future is meaningless if it is not also an equitable future.
Now is the time to double down toward building a more inclusive vision. We will hold ourselves accountable to doing everything in our power to ensure the promise of sustainability is not limited by socioeconomic status, race or any other factor rooted in inequity. It will take work to get us there and it is work we are committed to doing alongside our vast community of members and stakeholders.
The USGBC All In strategy will serve as a roadmap for USGBC programs, policies and actions to collaborate with stakeholders to address social, health and economic disparities in their communities while we continue to learn and evolve as an organization.
Building a more resilient future
Green buildings are the first step to creating more resilient businesses and communities while also supporting economic development and growth. We know people, especially those in our most vulnerable communities, are already experiencing the costs of a changing climate and the resilience of the people in these structures is a critical factor. Resilient design, construction and operations verified through green building and infrastructure certifications can help reduce risk and vulnerability. USGBC and GBCI's resources serve as a roadmap for resilience that has the ability to save companies money and improve the standard of living for all.
The building and construction industry must accelerate its adoption of strategies and practices that respond to climate threats communities are currently facing. USGBC and GBCI's resilience brief outlines existing resilience resources along with new opportunities.
Our vision
While cities across the globe work to flatten the COVID-19 curve and return to some sense of normalcy, we must face a new reality: The world we return to might look nothing like the one we've left behind. The impact of the global COVID-19 pandemic will be felt for years to come – on the economy, on people and on our way of life.
Fifty percent of the world's population already lives below the poverty line, and the IMF estimates from 2020-2021 the cumulative GDP loss from this pandemic could be around $9 trillion.
It is no secret that the most vulnerable among us will feel the gravest impacts. We're going to have extraordinary mental, physical and financial health repercussions in nearly every part of society.
Remaining resilient – both in business and life – will require every industry and individual to adapt at a pace we might never have thought possible.
But what lies ahead is also a responsibility for us to design a more resilient future
We believe that healthy people in healthy places is the fastest way to build a healthy economy. And the global pandemic has only made our beliefs that much stronger and our mission that much more vital. We don't have to choose between public health and a healthy economy. The future will require both to thrive.
That is why we are prioritizing our efforts to build people's trust that their spaces are healthy and have a positive impact not only on them, but the economy at large.
In other words, our second generation at USGBC will focus on our relevant and reimagined vision: Healthy people in healthy places equals a healthy economy.
Healthy people in healthy places equals a healthy economy.
This is a once-in-a-lifetime crisis, but it's also a once-in-a-lifetime chance for us to fulfill that vision by asking the right questions and discovering the most equitable, inclusive and innovative solutions.
What we're doing
In May 2020, USGBC announced a series of actions and priorities that help support the global recovery effort and leverage the power of our community to shape a healthier future for all. Some updates include the following:
GBCI amended its LEED review process to incorporate the lessons learned from COVID-19.
We launched a call for proposals, held a Healthy Economy Forum last month to hear perspectives from the market on how LEED can evolve to deliver on the new reality we're facing and released a report that covers the findings from this forum.
We released six LEED Safety First Credits that outline sustainable best practices that align with public health and industry guidelines related to pandemic planning, cleaning and disinfecting, workplace re-occupancy, indoor air quality, HVAC, plumbing operations and water system recommissioning.
We launched Arc Re-Entry, which provides tools and analytics to assist companies with re-entering their spaces.
LEED
LEED v4.1
If the first generation of LEED was about connecting the dots between awareness and adoption, about educating people on the impact of this work, then the second generation must be about accelerating adoption. And doing so through new metrics, new credits, new incentives, new goals, and new ways of implementing LEED—at a time when the world needs it the most.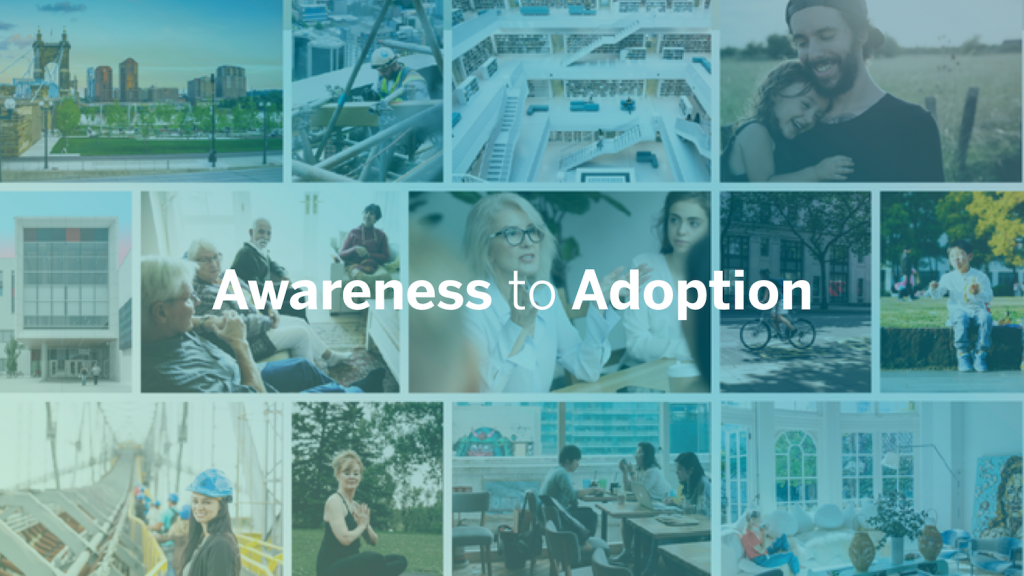 In our latest version, LEED v4.1, we have not only raised our energy reference standard, but also added a carbon metric to the ratings systems for new and existing buildings. This way, we can directly measure the impact buildings are having on the climate—as dictated by efficiency, onsite generation and storage, and the grid of which it is a part.
We've also made improvements to the renewable energy credit—so buildings are incentivized to invest in the kind of clean energy technology that lowers emissions even further. 
And in LEED v4.1, we are asking project teams to understand the embodied carbon in their material selection. This way, they can use Whole Building Life Cycle Assessments and tools like Environmental Product Disclosures to weigh options for building design and materials selection with lower carbon impact.
The materials credits in LEED v4.1 has been significantly simplified and it is evident from that more than 10,000 credits have been substituted by nearly 3,000 projects around the world. This means more projects are including sustainable and healthy materials to positively impact the health and wellness of their occupants. 
Additionally, the Construction and Demolition Waste Management credit rewards teams for reducing the amount of construction they're doing—and the amount of demolition materials they're going through. According to the Ellen MacArthur Foundation, 10 to 15 percent of materials are wasted during the construction process. So this is a real opportunity to reduce embodied carbon by recycling and sorting these material streams.
Adding carbon as a metric to everything we do sets the foundation upon which all new and existing buildings, and eventually communities and cities, can assess their current footprint and begin mitigation.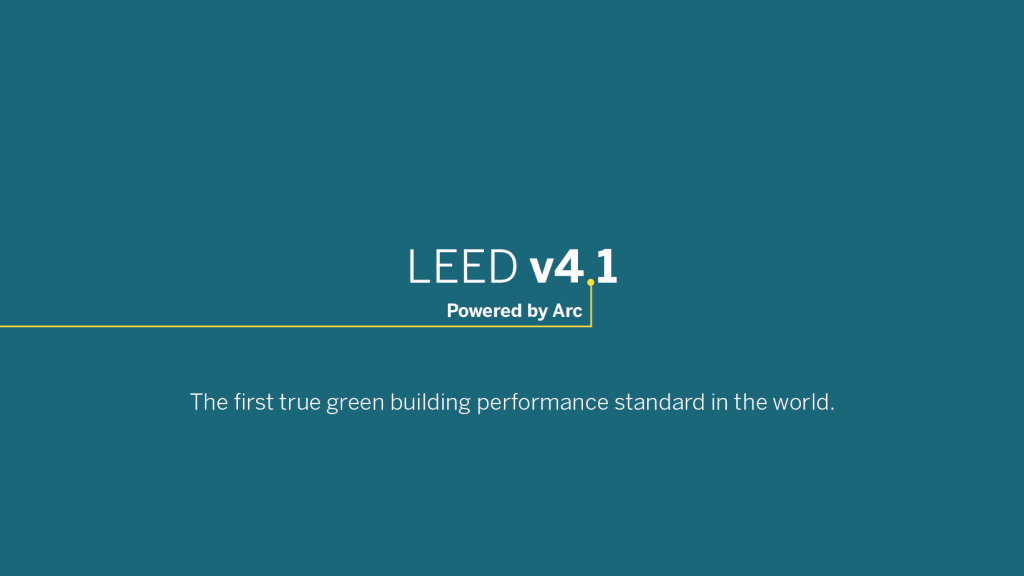 We have fully integrated the Arc performance platform into LEED v4.1, making LEED the first green building performance standard in the world. Through this integration we are helping project teams to ensure their design, construction and operational strategies are driving the expected performance outcomes for the project. 
Recertification
We want all LEED projects to continue to demonstrate leadership long after they are constructed and occupied. Through our new recertification guidance, any LEED project — old or new — can recertify using 12 months of performance data. 
Close to 1,900 projects have already recertified using this new guidance and we expect this number to grow rapidly in the future.
LEED Zero
If we're going to move the needle to tackle climate change, we only have one choice: to set our sights at zero. 
We believe net zero is a powerful target that will move the entire industry forward to a regenerative future. This is where our leaders are going, with 17 certifications already achieved. LEED projects are transitioning to net zero milestones, and yours can too. 
Yes, zero carbon emissions. But also net zero energy use, water use, and waste. 
You may be surprised to know that the first LEED Zero project did not come from the U.S., or Europe or Asia, but rather from Brazil. And the second project wasn't from a Tier 1 city, but from Little Rock, Arkansas.
The third LEED Zero energy project is none other than Discovery Center Elementary School in Arlington, VA.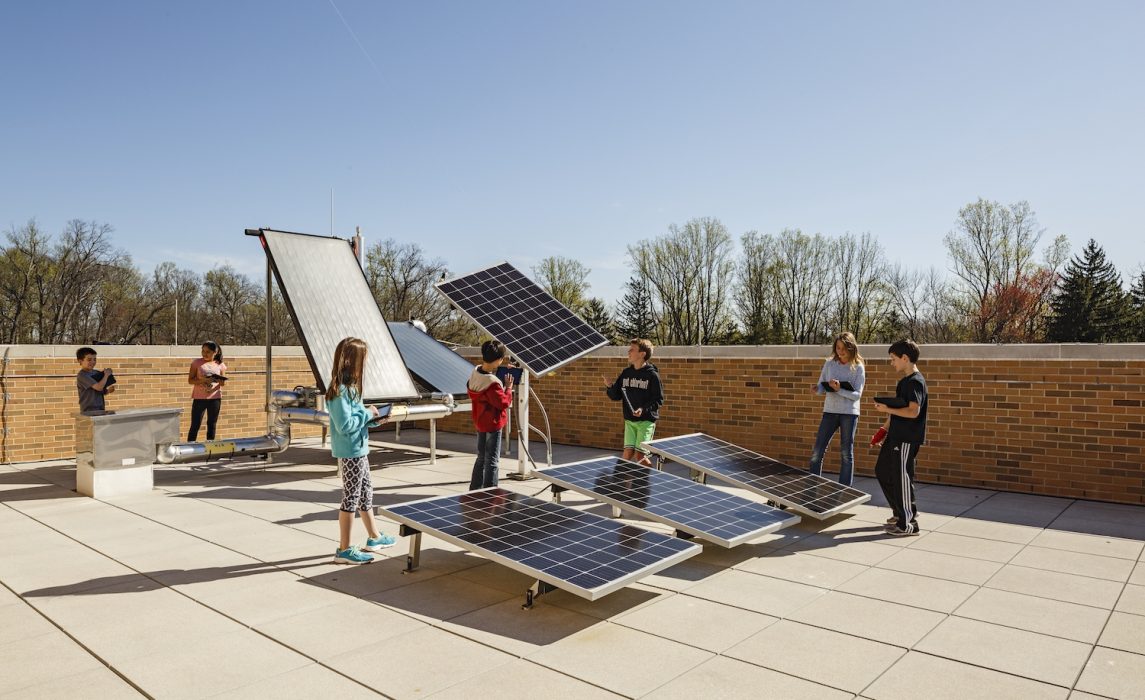 The Discovery Center Elementary School in Arlington, VA produces more energy than it uses and serves as a teaching tool for students.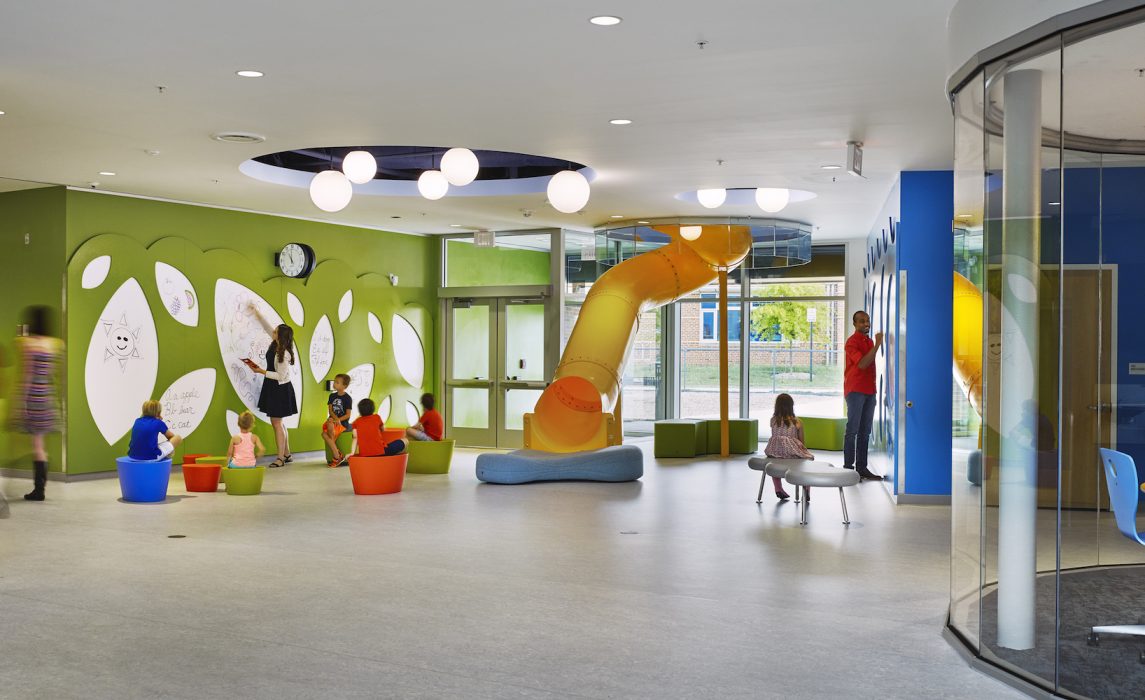 Because of this certification, the Discovery Center Elementary School:
Saw $117,000 of annual utility cost savings — enough to cover the salaries of two teachers.
Was completed under budget, allowing the school district to apply $2,900,000 to other projects.
Sends a surplus of 100,000 kWh annually back to the grid, which is enough to power 7.5 average Virginia homes for an entire year.
In addition to these savings and delivering a net positive energy balance, the school serves as the learning laboratory for students to get an early start on sustainability.  
LEED for Cities and Communities
While LEED Zero is made for individual buildings, we want to accelerate change on every possible scale. And that means not only addressing individual projects, but the cities and communities that they form. That's why we created LEED for Cities and LEED for Communities: it's change on a grander scale.  
These programs are helping cities develop responsible, sustainable, and specific plans for green energy, water, waste, transportation, and many other factors that contribute to the human experience. They encompass sustainability and much more: quality of life, health, prosperity, equity, education, resilience, infrastructure, and energy. They are designed to support continuous progress toward developing better communities and cities – because better communities equal better lives.
More than 110 cities and communities around the world are registering and certifying with us. In total, these places cover more than 53 million people. 
LEED can be layered to support people, businesses, neighborhoods and cities. For example, Washington, DC is on the list of cities and communities that have certified, but so is the Golden Triangle Business Improvement District (BID) — a neighborhood within the city.
Recently, Golden Triangle achieved LEED Platinum certification and became the first LEED-certified BID in the world. Golden Triangle has made significant efforts to ensure a clean, safe and vibrant neighborhood for more than 89,000 people. It's a stellar example of how to use every possible inch to improve the quality of life and living standards of every person who visits or calls it home. 
And USGBC headquarters' LEED Platinum office is also proudly part of this project.  
Imagine if every LEED building asked their community and city to get certified. And imagine if we connect all of that data through the Arc platform and we know exactly the impact our buildings, communities and cities are making. Imagine that world.
LEED Positive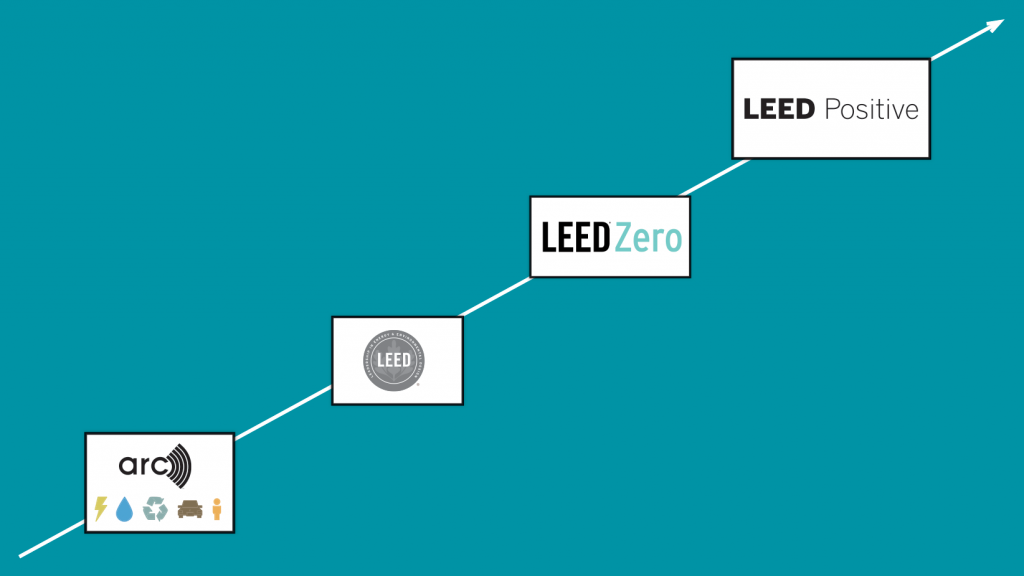 All of these efforts – from Arc, to LEED, to LEED Zero – are part of our vision to ensure that the next phase of USGBC's efforts will be LEED Positive, where buildings are actually generating more energy than they use and removing more carbon than they produce. And the way to get there may not always be direct – it will require incremental steps, from a project tracked in Arc, to a certified building, to a LEED Zero building and beyond.
USGBC's aspirational goal is to require all LEED new construction projects to achieve LEED Positive starting in 2025, and all existing buildings to be LEED Positive by 2050.  
In the years ahead, LEED buildings must not just do "less harm" than traditional construction. Instead, they should be carbon positive and truly regenerative. They should generate more energy than they consume, save more water than they use, remove more carbon than they produce and have a positive impact on the physical, mental, and social health of its occupants. 
In short, LEED buildings need to give back to communities more than they take from them.
LEED buildings need to give back to communities more than they take from them 
We need to reimagine how to grow and scale our projects so that in meeting this new demand, we create better, more inclusive spaces. And that will be achieved by all of us, together. Because true leadership is not possible without partnership. 
Living Standard
One of the key issues we've noticed over the years is that while people associate green building with energy efficiency, resource conservation and often cost savings, they don't associate green buildings with contributing to their quality of life. 
We know that in order to realize a sustainable future for all and really make green building a mainstream concept, we need to solve this paradigm. This is why we launched the Living Standard campaign with the goal to expand the way we talk about sustainability, by focusing on what matters most within our buildings: human beings. And to ensure that LEED remains not only the de facto leadership standard for green building, but also a living standard.
Through the power of storytelling, we hope to broaden our engagement and increase the demand for green buildings. As we know demand changes everything. 
So, please visit livingstandard.org, and start sharing your stories. We truly believe your story will inspire someone else in the world to get involved and take action. 
In addition to the stories pouring in from across the world, we have also released two research reports, an action toolkit, and a special edition of USGBC+. Review them to provide a different perspective on how to advance our collective mission. 
The next 25 years of USGBC
Healthy people in healthy places equals a healthy economy. This is our new timely, relevant and necessary vision. It's our thousands of members and advocates at the heart of this mission who will help us take this from outline to outcome. From awareness to adoption.
We hope you'll join us in making it a reality.