Ceilings have always played a prominent role in helping keep spaces clean and safe, but it's especially true now during the COVID-19 pandemic. And Armstrong World Industries has been at the forefront of evolving their ceiling and wall materials to be healthier and more sustainable. Sonja Trierweiler, Director of Living Standard, spoke with Armstrong's Sustainability Manager, Anita Snader, and Architectural and Contract Sales Manager, Liesl Morell, on the successes and challenges in this journey to bettering their materials, the partnerships and collaborations this affords, and witnessing firsthand the positive impact a business can have on a person's quality of life.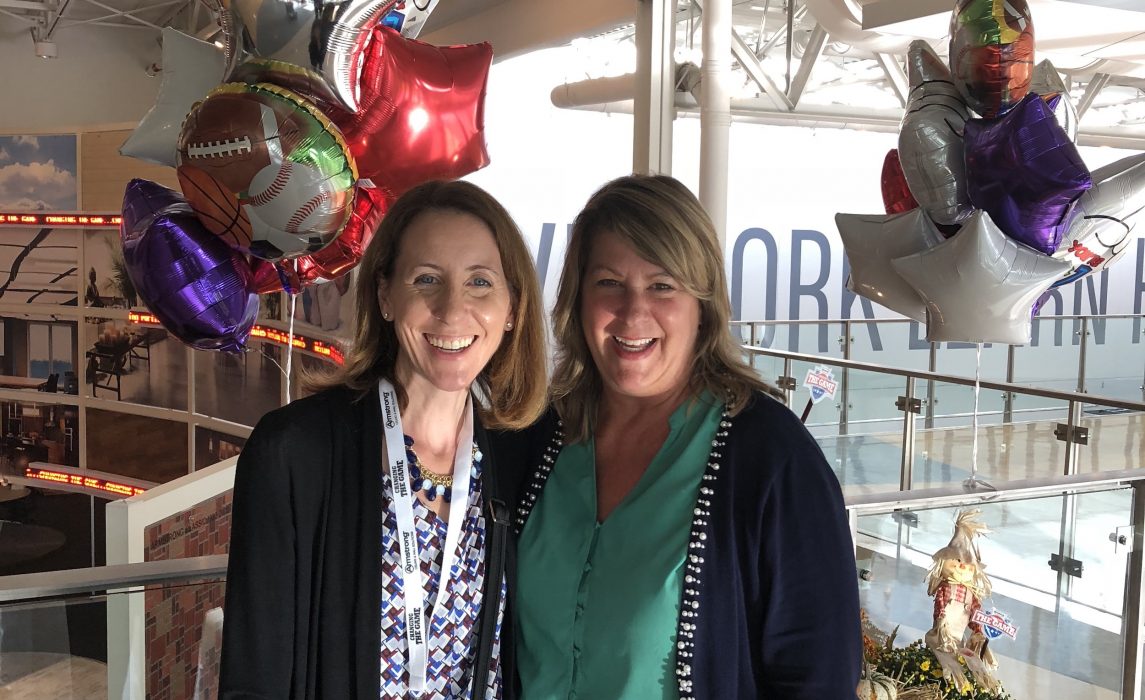 Liesl (left) and Anita (right) at Armstrong's homecoming, fall 2018.
This interview has been edited for length and clarity.
SONJA TRIERWEILER: You both have been at Armstrong for some time, and it's clear you have a great working partnership. In what ways do you collaborate and work together?
ANITA SNADER: We've really been the "green tag team" over the past 10 years at least — maybe 12 if we really want to be honest. It's been great because Liesl has been out there representing a customer voice, saying, "This is what we need." And then as my role in leading our sustainable products, I can say, "This is what we need to do" and turn the feedback into a product or a solution, and elevate our sustainability position for Armstrong overall. It's been that great balance and we've enjoyed working together.
LIESL MORELL: Exactly. My role at Armstrong is to collaborate with the architects and designers, and help them specify our products. When I first joined Armstrong 21 years ago, I was enamored with the sustainability position that the company was promoting, primarily through our recycling program. At that time, recycled content was very important to the design community.
But this issue that we were so focused on, getting a higher recycled content — we were putting in newsprints and recycled ceiling tiles to create ceilings with higher recycled content — as it turned out doing so was increasing the off-gassing of formaldehyde. Considering off-gassing turns our focus to the concept of indoor air quality. When you walk into a new space, you don't want it to have that "new space spell" because that is what's making us sick — that inhalation of formaldehyde. So, what we thought was this great sustainability characteristic ended up being not so great when you looked at it from a different point of view. This was clearly brought to our attention around the year 2000 through a very large, government project up in Sacramento where the design team had worked with the California Department of Health to develop a new standard for indoor air quality and acceptable emissions levels for chemicals that were known to produce off-gassing. The emissions levels dropped from an OSHA approved level down to a level measurable based upon volume and air turns within occupied commercial interiors.
That reality of reconsidering indoor air quality and how our products can affect it helped us, as a company, reevaluate what sustainability meant. Anita and I have been working with a passion to make things better ever since. Because we have customers that are specifying our products and standing up for their specifications, we are able to justify these quantum leaps in change in our manufacturing. Based upon what we learned from that project and other initiatives like the Collaborative for High Performance Schools, we ultimately reformulated the way we make our product so we meet these standards. Later we modified our approach to making fiberglass ceilings and the journey continues.
AS: That's when indoor air quality was just starting to be a driver in the building industry, and that was also when the LEED rating system was expanding its focus on materials and resources in indoor environmental quality. LEED has really served as a guidepost for us to be able to know what we should be doing next. We were part of a lot of the LEED technical advisory groups, so we were able to know where the LEED rating system was going.
ST: It sounds like there's been quite an evolution of what makes a product "sustainable."
AS: It kind of aligns with what I said about LEED. It's helped us develop a business case to say, "This is what we need to do, and this is what our customers are asking." Our CEO is very customer-focused. We are committed to developing new and sustainable ceiling solutions, with design and performance possibilities that make a positive difference in spaces where we live, work, learn, heal, and play.
In 2016, we launched a portfolio called SUSTAIN, which provides an easy way to find products that are clean of the chemicals of concern. And every product in that portfolio has the same checklist so it's simple to use, saving customers time in researching and screening our products. And our SUSTAIN portfolio aligns very nicely with your Better Materials platform.
LM: From a customer standpoint, it has helped us move forward in the industry and take a real leadership role. A lot of our customers come to us and say, "We have this specification and we're saying this," and then we can kind of go through it and say, "But if you say this, then you're going to need that, so how far down this path are you prepared to go?"
It's not just the thing we're selling, it's what people are buying it to do for them. But we're also helping to guide them toward a more sustainable choice if we know that it's an option for them. Because I think that given the choice, people want that. And at this point in our industry, people really expect it. And so customers have faith in Armstrong that we're going to help them do the right thing while meeting all their expectations. We have to make sure that not only are we changing this one thing from a health perspective, but we are also making sure that our customers are getting the rest of the product that they want.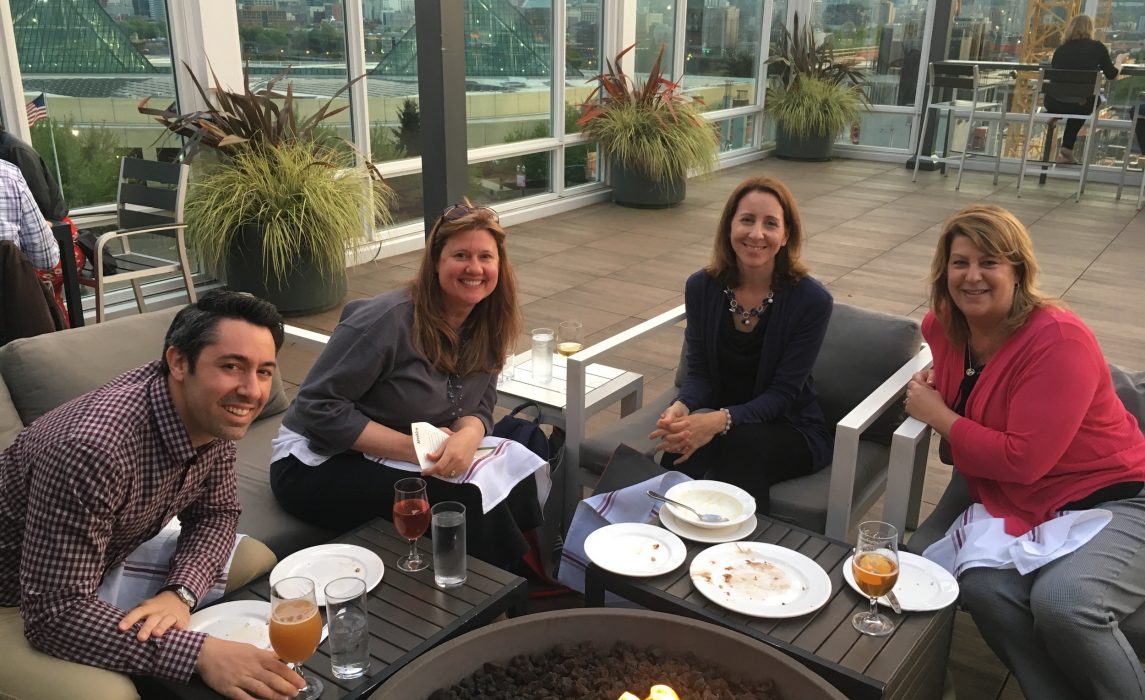 Armstrong sales and marketing support, supporting the Living Futures Council event, May 2018.
ST: Liesl, I'm remembering you mentioning to me before at Greenbuild that Armstrong has been around for a long time. How long, exactly?
AS: What is it, 161 years?
LM: Mmhmm, 1860. Put into context, that was the Civil War era. Abraham Lincoln.
AS: Our whole mantra has always been about quality and that started at the foundation of the company. We made corks at the beginning of Armstrong for soda pop bottles. In Pittsburgh, there was this big fair one day at the time of Armstrong's founding. The story goes that all of these refreshments were brought in and the corks were popping — and it wasn't because it was great champagne or anything like that, but it was because the corks were defective. And so Thomas Armstrong came in and saved the day by replenishing everything. He followed through on his commitment to quality by starting to print his name right on the corks so people would know the product they trusted was by Armstrong. His promise to customers was to "let the buyer have faith."
And then he noticed all the excess shavings from the cork manufacturing that were being dumped into the river. He knew that they had to find another way to reuse the scrap. And he did, by taking the cork shavings and using them to create cork flooring. That's how cork flooring first began and then grew in terms of all other acoustical properties. A number of years later, that's how the ceilings came along. So sustainability is part of the DNA of Armstrong back to 161 years ago. It is pretty amazing.
ST: With indoor air quality being such a huge issue right now with COVID-19, how have you seen that reflected in your day-to-day work over the past year? Has there been an increased demand for more sustainable products as it relates to indoor air quality?
AS: Armstrong is committed to healthy, safe, and sustainable spaces. Throughout this pandemic, our commitment has remained strong and has grown. We are focused on how we can help, how we can find a solution that's going to create better spaces for all. In addition to our new innovations in indoor air solutions, we are also committed to healthier spaces for our community and our campus.
This year we achieved LEED recertification for our headquarters. In the past when I would talk about how our products contributed to LEED, customers would ask, "Does Armstrong have any LEED buildings? Are you walking the walk? Do you really know the ins and outs of everything?" We first obtained LEED certification for our headquarters building in Lancaster, Pennsylvania, back in 2007, and then again in 2014, and then just this past year. In the midst of everything else we accomplished the recertification again of our LEED buildings. And on top of that, Lancaster, Pennsylvania is LEED for Cities certified. This helps us as a community partner. We are proud to have continued our commitment to LEED serving as a mark of a high-performance building.
LM: Yes, really, the emphasis right now is, "What is it going to look like when we return to the places where we gather?" Our philosophy at Armstrong tends to take a three-part kind of approach: what is the cleanability, how are we going to contain and support the movement of air within the space, and how are we going to protect the people within the space? We call it our "healthy spaces initiative" and it is designed to support our specifiers looking for solutions for the new paradigms in interiors: healthier, safer, cleaner.
Right now we are looking at airflow in general, what's carried on that air, and what's existing — because when people go back into spaces, they're not necessarily tearing everything out and starting with a fresh, new interior, but they might want to replace those ceiling tiles. To address this economically and efficiently, we developed a ceiling tile that actually has a gasket built into the tile. Now you can take the old ceilings out and put the new ceilings in and this new ceiling called AirAssure minimizes the amount of airflow that goes between spaces.
The other thing we are doing is on-point cleaning of the air—purification on site. So instead of waiting for air to go through the whole building and circulate, we are providing an air purification unit, called VidaShield, that you can put into a specific room. Every 100 square feet, within an office space or a classroom or treatment room, you can put one of these VidaShield units into the grid system. There is a UV light within the unit and fans on either side: one side pulls the air in, and then it draws that across UV light to clean anything that may be growing within the air. Then the air comes out about 97% clean into the space having neutralized the majority of the pathogens passing through it.
AS: One of the big "ahas" through this whole pandemic is just how much the ceiling has to do with air circulation and air quality. Before, we tackled it mostly from the perspective of what was in our ceilings—the emissions piece. But now with COVID, our whole relationship to the ceiling is about what we can do to help create a healthier space.
ST: That's interesting, you know, starting this conversation talking about ceilings off-gassing and not really realizing the impact that had, and then how you made adjustments incrementally and evolved the product to where we are now – kind of looking at the reverse of it. What is it absorbing, what are we doing with our ceilings for indoor air quality in terms of COVID. I think it really speaks to what you've both been talking about how this has sort of been a journey to learn about what is actually "sustainable," and how to offer a product that people actually need and want and can use to improve their health in indoor spaces.
AS: This is why we both have had such a long career at Armstrong. I have been with Armstrong for 23 years, and in sustainability for the last 12, so it's not like you are doing the same thing over and over again.
ST: What was one of your most memorable projects in your long career at Armstrong?
LM: The Salesforce Tower project in San Francisco, in my home city in Northern California — because of what it represents in terms of the relationships that created those interiors with the many layered design support and the Northern California chapter of USGBC (USGBC-NCC) with its energy behind the Building Health Initiative at that time. When I look at that building on the horizon, and when you look at pictures of San Francisco's skyline going forward, I think that tower represents a real win for our whole industry. For USGBC, for LEED, for everything that the industry is trying to do in order to create healthy spaces.
LM: Salesforce Tower brought together the owners that said, "This is important to us." It brought together architects and designers that said, "We will support you." And it brought together manufacturers, and I was so proud that we were a founding part of the USGBC-NCC Building Health Initiative and said, "We'll make our products to meet what you're looking for." The collaboration within the community and everybody coming together — it was a really good example of doing what you say you're going to do and following through on it. The owner followed through, the designers followed through, the manufacturers followed through. And we found that we could all support each other.
And all of our transparency work aligned to Salesforce sustainability specification for ceilings. Our long-term publication of Environmental Product Declarations (EPDs) allowed the project to understand the embodied carbon of our ceilings, and contributed to their carbon reduction goals. Everybody who supported this project didn't try to substitute things out — they made sure that what was installed represented the goals of the industry.
The last USGBC event I went to was in February 2020, and I remember Mahesh talking about USGBC's new vision — healthy people and healthy spaces — and the direction that LEED and USGBC is taking us now. It makes sense. It all ties together. This aligns with Armstrong's drive to provide solutions to contribute to cleaner, quieter, sustainable, healthier spaces, including indoor air quality. So, let's keep the momentum going!