I've been fascinated with zero waste strategies even before I was familiar with the concept, beginning around  when I was 9 years old growing up in São Paulo, Brazil. This passion eventually led me to open my own waste-related consulting firm, All About Waste. I shared this story for Living Standard, where I also talked about a truly innovative project I worked on that inspires me to this day:
When I opened All About Waste, the majority of our projects were conducting waste audits for the big commercial real estate companies such as Kilroy, Tishman Speyer, JLL, Cushman & Wakefield, and so on. Eventually I was fortunate enough to work with GBCI on achieving TRUE certification for zero waste for the largest high-rise building in San Francisco. From that point forward, we started getting more and more projects, and I became hooked on TRUE.
I reached out to GBC Brasil in 2019, on a bit of a mission to promote the certification. I traveled to Brazil and stayed for nearly two months. While there, I was able to meet with several leaders in the green building field, and finally, the country is beginning to see some progress on TRUE projects. I'm proud to have played a small role in introducing TRUE to my native country.
One of the most compelling recent developments from TRUE is the precertification program. TRUE precertification is what I like to call a "zero waste pathway for all." It's very democratic in the sense that any facility can get precertified. As long as you can show that a project has implemented zero waste best practices and that the groundwork toward zero waste has been laid, the project will not have to meet the 90% diversion from landfill and incineration as is required for the full TRUE certification. It's a great pathway because it really helps you take that first step in looking at your facilities' operations, and it allows you to pinpoint the strategies that will help increase the diversion rate and eventually achieve zero waste status.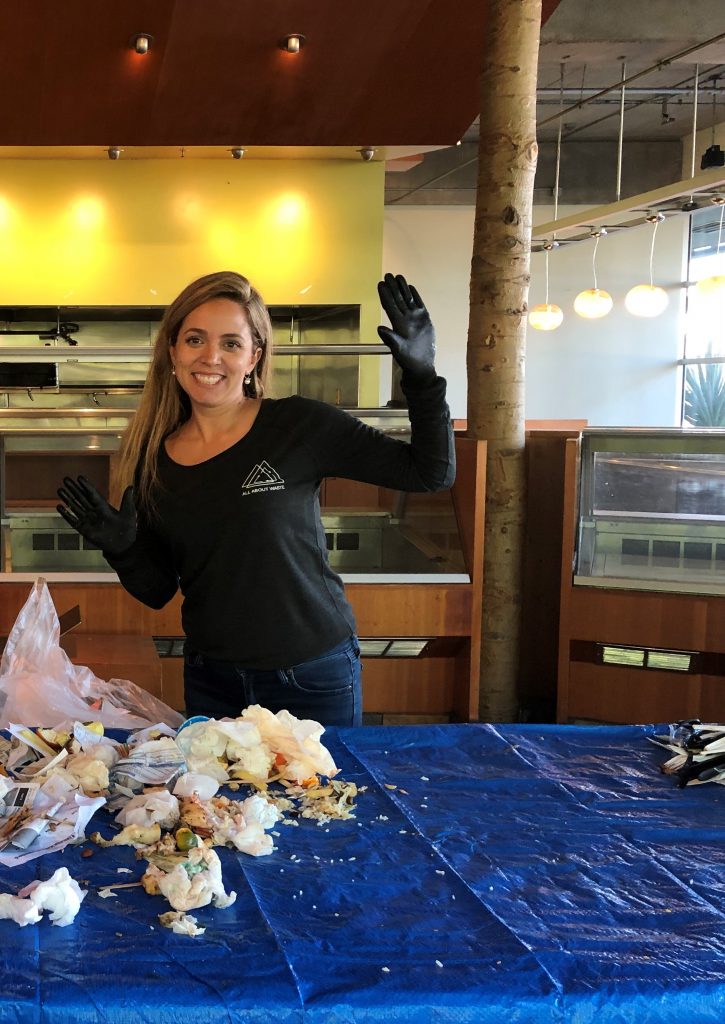 I fully believe in the positive impact of TRUE and LEED to build a more sustainable and circular future, and I love what Living Standard is doing because I think it's important to be very direct with how we talk about our work in order to have the greatest impact. Living Standard's Standard Issue, Vol. I really dives deep into the research behind this, and I've seen it to be true in my own experience.
Especially with waste, it's a really big challenge to effectively communicate our end goals. I believe that the sustainability industry suffers from a lack of investment in marketing, education, and awareness.
While in college in Brazil, I majored in pedagogy and social studies. One of my biggest influences was a famous Brazilian educator named Paulo Freire. His main philosophy focuses on educating people based around their own reality, essentially using their reality as an educational tool.
I've found it beneficial to adopt this philosophy in my professional life. For example, if I am presenting something at UCLA, I am going to use examples that UCLA students see in their own lives for them to understand their own relationship to waste, or what a circular economy is, and how they can make a positive impact. If I am talking to a janitorial team when I am doing a waste audit, I need to use their reality: what kinds of things affect their daily routine, what are the things they want to know, or how my service will impact their work. The secret is to understand the audience and put ourselves in their shoes and to communicate based on their reality. The idea is to work toward making the pillars of a circular economy and zero waste concepts so integral in our everyday lives that we don't even have to think about them—we just do.
That's why I was very happy to see that Living Standard recently launched a page on their website dedicated to TRUE to help bridge this gap. Anyone—whether you're new to the concept of zero waste or a seasoned professional—can use the tools and messaging guidance on that page to help drive change.
I wanted to share my story for Living Standard because I believe in the incredible power of USGBC that I have been witnessing over the past 20 years of my life. How they have been changing the industry, bringing more awareness to people, increasing transparency across sectors—from how we extract raw materials, manufacture, consume, and all the way to the end of life and its opportunities to become part of a circular process and economy.
It's so inspirational to see how the power of a sustainable project can change people's perception, behavior, and lives. It can transform a community, and can impact so many industries.
Many times, there are externalities that we don't even see and we don't measure. I have so many clients that, because of their experience working on a LEED, TRUE, or WELL certification, they change the way that they buy stuff, the way that they are designing their own homes, and the cars they are buying. That is the power that is sometimes immeasurable.
I've had many clients send me messages saying things such as, "I've decided to change the design of my beach house to be more sustainable." Or, "I am buying FSC wood toys for my kids because I don't want them to play with plastics." It's so inspirational to see how the power of a sustainable project can change people's perception, behavior, and lives. It can transform a community, and can impact so many industries. It's like a butterfly effect of positive things that I have been seeing more frequently in my career in the green building industry. These are the things take keep me inspired and motivate me to work every day despite of the challenges we face.
As Paulo Freire says, "No one is born fully-formed: it is through self-experience in the world that we become what we are." The green building movement is bringing a new identity to people's lives and careers. It's beautiful, inspiring, and transformative!